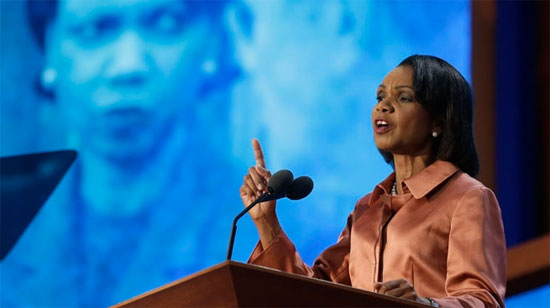 (Photo: Fox News)
I've already mentioned today how everybody is praising Condi's big speech last night, and that all these people are totally wrong. It was not a good speech. It was a speech bereft of all content featuring half-hearted jabs at Obama and the umpteenth re-run of her tired old "I was born in segregated Alabama and blah blah blah" yarn that we've all heard a million times already.
But if you want to see some really over-the-top praise not just of Condi's speech, but of the entirety of America's Princess Diplomat's existence, get ready for
Keith Ablow's utterly insane testimonial
offered up today by Fox News.
How good is Condi? OMG, you have no idea:
Very rarely in the life of a nation or a culture, a person appears who represents a true healer—from a psychological perspective—of divisions and fault lines, whether of race or gender or ethnicity or socioeconomic status, that occur naturally as the story of that nation or culture takes form.

[...]

Condoleezza Rice, with her speech last night at the Republican National Convention, qualified herself as such a person. Her intelligence is so obvious, and her grasp of the core truths of the American narrative so apparent, that those things alone could be mistaken for the reasons she galvanized the nation last night.
Ablow goes on to say that Condi will basically vanquish all heartache from this world, and that she could do this as part of the Romney administration, but –thrillingly– that would just be a pit stop on the way to CONDI 2016, after which she will heal the entire universe.
Condi contains multitudes. Praise her!