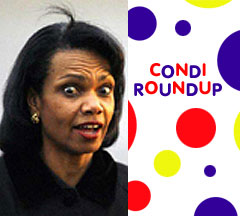 See, people are so accustomed to Condi Veep Rumors that nobody paid much attention to
Bill Kristol's recent attempt
to "ship" (as all the fangirls say) Romnoleezza (
Condomittney?
) '12 to the masses.
Well, Kristol underling Daniel Halper at the
WS
aims to please, so OMG, you guys! He
just got an email
from Condi! Oh wait, it's just junk mail from some "Elect Republican Ladies" PAC to which Condi lent her name.
But no! Wait again! Condi, by involving herself in this PAC, is expressing her desire
to be involved in this election
!
Therefore: Romney-Rice 2012.
Quod erat demonstrandum
. Yay!
But, uh-oh, here's John McCormack,
also in the Weekly Standard
, throwing cold water on the idea by reminding everybody that Condi is "mildly pro-choice." Terrors!
So anyway, this has been your Condi Veep Rumors™ roundup. Life is good.