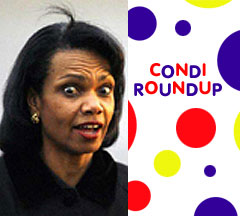 Oh, haw,
The Weekly Standard
. LOL. Bill Kristol wrote
a ridiculous column
about how... well, what? Surely he's not saying that Condi is going to actually
be
Romney's running mate, is he? Not really. He's basically doing what Condi Veep Rumormongers always do: closing his eyes and crossing his fingers and saying
wouldn't it be great?
over and over. And all this is because she "wowed the crowd" at a recent campaign event, and "seemed to impress" Mitt. Plus, she's, like, totally a chick and has life experience 'n' stuff. Perfect!
Kristol wraps up with this brilliant comedy laff-riot:
Let me be clear: I'm not advocating the selection of Rice. I'm just reading the tea leaves, and the biggest tea leaf out there right now is Ann Romney's comment. It makes sense to take Ann Romney seriously. Cherchez la femme!
Yes, it totally, totally makes sense.