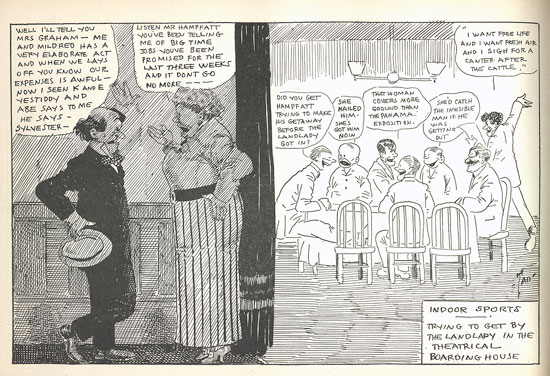 Another theatrical boarding house gag. Click any for bigger.
Here's part three of the scanned collection of T. A. Dorgan's
Indoor Sports
cartoons. It's impressive enough that Tad drew this panel as a daily feature, but his accomplishments become truly daunting when you consider that during most of
Indoor Sports
' run, he was also turning out his daily
Silk Hat Harry's Divorce Suit
(later called
Judge Rummy's Court
or
Old Judge Rumhauser
) strip, as well as additional sports illustrations, editorial cartoons, Sunday features, and covering baseball games and boxing matches as a sporting news reporter.
How did he do it without burning himself out? That's a trick question: he didn't. He suffered a heart attack at a Jack Dempsey fight in 1920, and by 1921 had been ordered by his doctor to leave the big city and boxing matches behind. For the nearly ten years until his 1929 death, Tad rarely left his home in Great Neck, NY, living with the knowledge that he could literally drop dead at any time. All the while, he never stopped cranking out drawings by the thousands, and perhaps the isolation and lack of distraction enabled him to achieve new heights of skill in draftsmanship and observation.
Back to 1914, here's Tad, a lifelong city dweller, lashing out at the "hicks" again: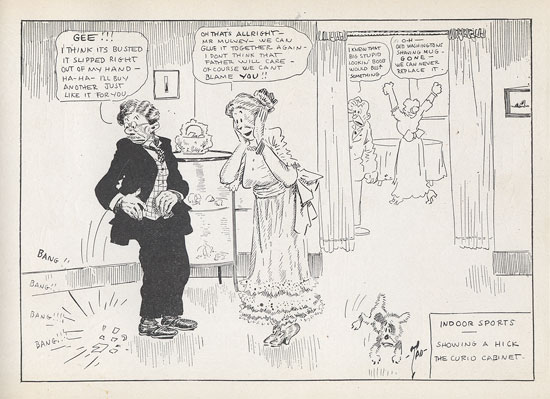 The cartoons in this book preceded alcohol prohibition, but booze was still something to be handled with discretion: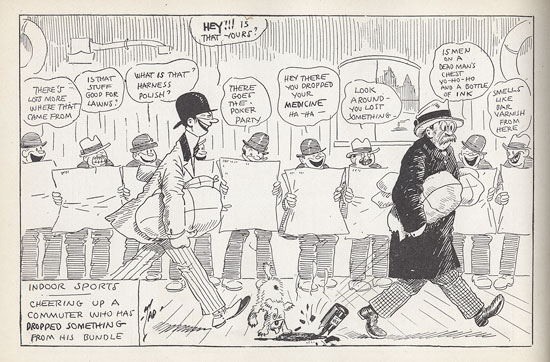 Another office scene. I'm not sure what kind of pose Tad's trying to show in the main character, but it sure doesn't work:
Another awkward moment:
Men "of the cloth" had to be even more discreet with their booze:
Holiday for urban orphans: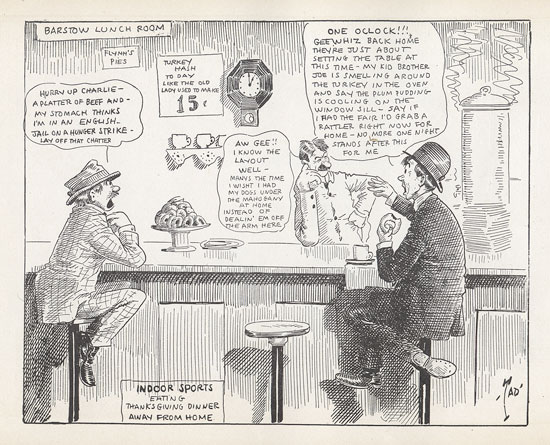 Tad's incessant "nobody home" gags take a literal turn:
Office politics get ugly:
Stag night rudely interrupted:
A familiar situation:
Another card game gag, this one incomprehensible to me:
More backbiting at the office:
And the guest who wouldn't leave:
Part one is
here
, part two is
here
, and part four is
here
.