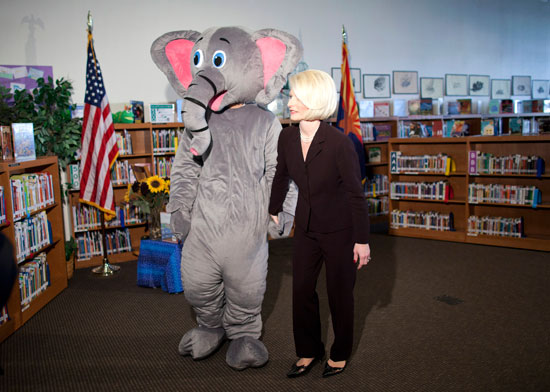 Callista Gingrich, wife of Republican presidential candidate, former House Speaker Newt Gingrich, walks with Ellis the Elephant, a character from her childrens book, during a visit to Chaparral Elementary School on Wednesday, Feb. 22, 2012 in Gilbert, Ariz. (AP Photo/Evan Vucci)
This is just such a weird choice. Obviously Goddess Callista and Newt had to go to Arizona, and obviously The Queen needed to have something to do (after all, it's not like the Tiffany's in Scottsdale has a different selection from any other Tiffany's), so they apparently drew a random location from a hat and off she went to... Gilbert? Yes, Gilbert, probably the WASPiest/Catholiciest, whitest and least Mormon part of the Phoenix metropolitan area. OK, never mind, that isn't a weird choice. I guess it makes sense after all.
Moving on! OMG, it's that Ellis the Elephant furry again, the one we all hate with its cloven hooves and disquieting tiger-striped trunk. Ugh. And I'm sure you all will have something to say about that pantsuit, almost certainly a
St. John's creation
intended more for, you know, an elderly East Coast museum docent (don't be fooled by that Neiman Marcus model). Callista even appears to be hunching around like an old lady. Stop it! Callista, everybody knows you're twenty years younger than your husband! This is just ridiculous.
And then after all that, the deformed elephant that walks like a
newt
man, the pantsuit, THEN those poor kids had to sit through a reading of Callie's inane, corny children's book about American Exceptionalism 'n' stuff.
But let's get back on topic. Her hair looked great! Here's another shot: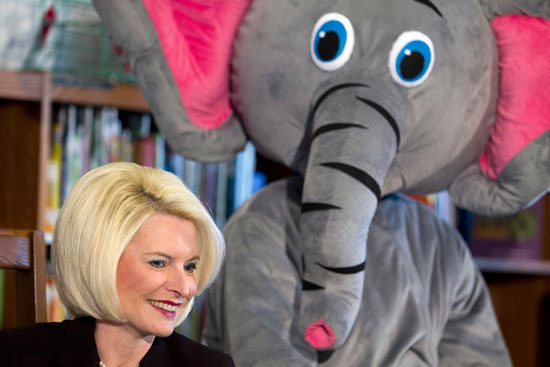 And you know what? I think it's coming back to me: didn't a lot of newscaster ladies have that hairdo in the late 1980s and into the 90s? Didn't Bree Walker have a bubblehead at one point? (ANSWER:
Sort of. Not really
. Sorry, where was I?). There really should be a comprehensive database of newscaster hairdos available for such important research. Tsk.
I'll leave you tonight with a gorgeous close-up from the photo above: