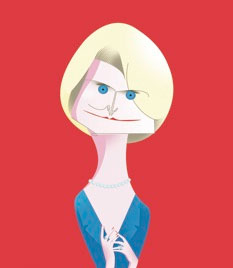 It is, of course, a trick question. Don't get me wrong, Ariel Levy's
feature on Newt 'n' Callista
(or
Cally Lou
, as we are mortified to discover her family calls her) is entertaining and well written. I was excited when I first viewed it: 7 whole (internet) pages of Callista! Wow!
Here's the problem: it's bait and switch. Just a couple of pages in, the author, perhaps frustrated with Goddess Callista's inner boringness, turns what first promised to be a Callista Festival into... a boring retelling of Newt's career and previous marriages. And she never gets back to Callista! She just drops her!
There are some new, tiny tidbits, sure, but what a letdown! Favorite part: a fan brings up the specter of hair dye, and Callista, not pleased, quickly changes the subject to Ellis the Elephant.
At least Jorge Arévalo's mean, Risko-esque caricature is a winner.