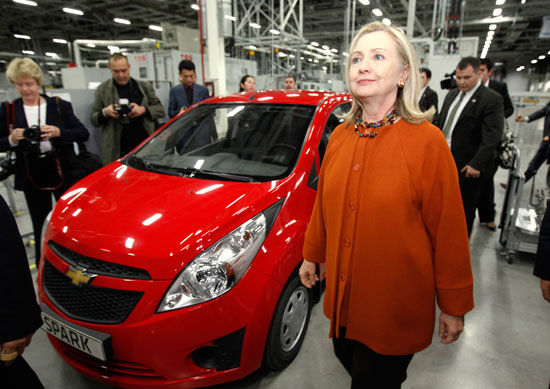 U.S. Secretary of State Hillary Rodham Clinton walks past a General Motors "Spark" while touring the GM Powertrain plant in Tashkent, Uzbekistan Sunday Oct. 23, 2011. Iran should not misread the withdrawal of American troops from Iraq as affecting the U.S. commitment to the fledgling democracy, Secretary of State Clinton said Sunday. (AP Photo/Kevin Lamarque, Pool)
Yes, it is funny that Hillary went to Uzbekistan right after Herman Cain's mortifying "beki beki stan stan" gaffe, but what I really want to talk about, obviously, is her hair. What. On. Earth. Is Hillary doing with her hair? An ironed-out, shoulder-length blonde flip? Really, Hillary?
You might recall that
I once described
Jan Brewer as a 65-year-old woman trapped in a 30-year-old's hairdo. This is worse: Hillary is a 64-year-old woman trapped in a 17-year-old's hairdo... from 1965.
There's something about this that screams "makeover," and it's making her look ridiculous.
And you'd think I'd be happy about
the return of The Flip
to the State Department!