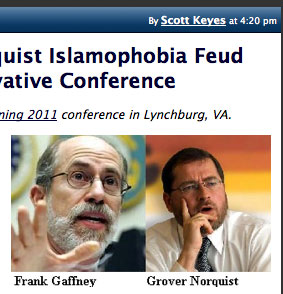 I can't emphasize enough just how thrilled I am to see Think Progress
using
my bear-riffic
Photoshopped picture
of Grover Norquist, the one which subtly implies something about him which isn't true, to illustrate an otherwise serious post about the Norquist/Gaffney feud. They're not the first to use it without noticing the joke (PSP readers didn't get it either), but definitely the most prestigious.
You can also see this spurious picture used without comment
on Alan Colmes website
as well as
here
and
here
and, strangely,
here
. This, to a Photoshopper, is like winning a gold medal: not when your image goes "viral," but when it is routinely assumed to be authentic.
And if you still don't get it, well ok,
look here
and all will be explained.