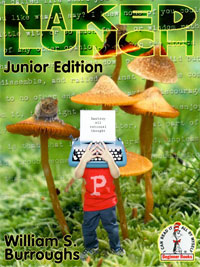 Have you heard? So sad about the last typewriter factory closing, isn't it? So let's all get wistful about technologies past and... what's that you say? Typewriters are
still being made
? Oh well, so much for nostalgia.
I remember when Sony marketed the first portable manual typewriter in 1980. Prior to that, if you wanted to type, you'd be chained to your desk. But Sony changed all that! The device was such a hit that before you knew what was happening, everywhere you looked you would see people walking around merrily tap-tap-tapping away. You could sit on the beach and write your novel! You could stroll around the shopping mall while composing a letter to a friend! Got a term paper due the next day but you really want to go see Aerosmith? No problem! Just strap on your Sony portable manual typewriter, go to the show and type to the beat!
Oh, sure, not everybody was enamoured with the new gadget. Some people noted that people weren't connecting with other human beings as much because they were lost in their own worlds, typing out their resumés while walking down the sidewalk instead of truly engaging with the environment around them. Others noted that being lost in a reverie while composing poetry on your Sony portable manual typewriter was a good way to get mugged. Others decried the loss of the old ways, noting that 95% of children by the mid 1980s knew absolutely nothing about casting metal type, composing sticks, case hardening, or punch-matrix systems. Tsk.
But we loved our Sony portable manual typewriters. And now the twitters and the facebooks and the mac-pods have ruined all that. SAD.