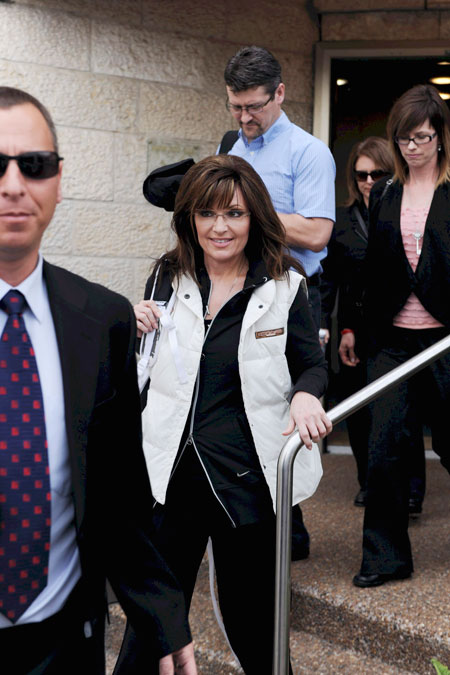 Former Alaska Gov. Sarah Palin arrives at Ben Gurion airport near Tel Aviv, Israel, Sunday, March 20, 2011. Palin is in Israel on a trip that has raised speculation she is honing her foreign policy credentials ahead of a run for the U.S. presidency next year. Palin arrived in Israel Sunday afternoon after a stop in India. (AP Photo/Yuval Chen)
There she is in a foreign country, looking just like the tacky, frightened tourist she is. Apparently she put on a
Star of David necklace
and let that do most of the talking for her. But what is up with that awful, cheap vest? Is it not the ugliest? Oh, but there is, of course, something about that vest:
Ah yes,
Rancho del Cielo
, better known as the Reagan Ranch, one-time getaway of Ron 'n' Nancy and now the home of the ultra-conservative Young America's Foundation. So it's a "gimme" vest, probably gifted to her when she spoke at the ranch last month (I bet Dick Cheney got one, too). Most conferences pass out awful canvas tote bags; this one passed out awful synthetic vests. I bet she calls it her "Reagan Vest."
Between the necklace and the vest, it really shows that if it doesn't fit onto a bumper sticker or in a Tweet, or a cheap piece of jewelry or an embroidered patch or a Facething update, it's all just a bit too much for Sarah. Keep it simple; keep it branded.