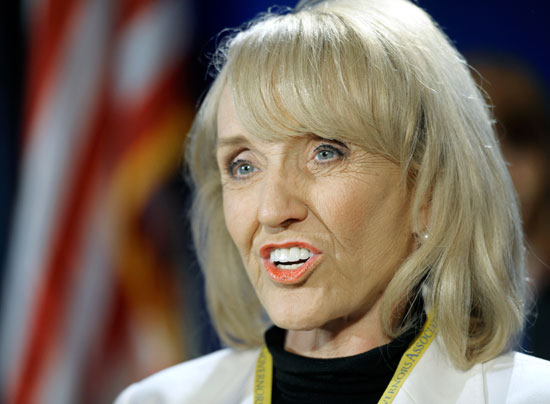 (AP Photo, 02-27-11)
By now, Jan Brewer is back in Arizona. I'm assuming there was a massive ticker-tape parade upon her return. But what happened to her plans to meet with the Sarah Palin? Granted, the news reports which mentioned the scheduled meeting were a little hazy, and Brewer herself never said she was going to meet with Palin, but as far as I can tell, it didn't happen.
Maybe it did happen and nobody said anything about it? Unlikely. If Jan had basked in Sarah's presence, you can bet the photos would have been up on her Facething fence (wall? Whatever the kids call it) within seconds.
Maybe it was never supposed to happen and people just assumed that the two would meet because why else would Brewer go to Alaska?
Or maybe it was supposed to happen and Sarah had one of her many "Oops, did I schedule that?" moments, only to realize that there she was, off shooting dinner while Jan waited patiently and fruitlessly with her photographer?
I prefer the last scenario, of course. I love the idea of Jan Brewer traveling all the way to Alaska for the sole purpose of getting a photo-op with Sarah Palin, and all she got was some lousy t-shirt.
These questions, of course, will dominate my week. Speaking of questions, go ahead and stare at the photo at the top of this post and contemplate –really contemplate– Jan's hair.
UPDATE: It looks like Jan did briefly
enter the orbit
of the Todd Palin while "enjoying" the Iditarod. That's close, but no banana.
UPDATE: Interesting that in a
blog post
at the
Arizona Republic
about Sarah Palin's choice of Arizona as a possible base for her campaign, there is the following vagueness:
Arizona Gov. Jan Brewer, who spent the weekend vacationing in Alaska, said she didn't have any conversations with Palin about a possible Senate run while she was in town and that the topic never came up.
Note that the statements above
imply
that Brewer talked to Palin this weekend without actually stating it. If Brewer didn't meet Palin, the above statements would still be true. Clever! I still find it impossible to believe a Palin/Brewer meeting without photo-ops.