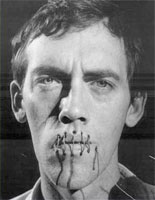 Unbelievable: earlier today, the assholes at the Catholic League and CNS News, a hardcore right-wing Catholic "news" site, complained about the National Portrait Gallery's excellent Hide/Seek exhibition. They were particularly offended by David Wojnarowicz' "A Fire in My Belly" video, which includes a crucifix crawling with ants. Soon enough, John Boehner, Eric Cantor and Jack Kingston (R-GA) threatened the museum's funding and *poof* the video was removed. Just like that. Please consider
this quote
:
Spokeswoman Linda St. Thomas told the New York Post that it does not comment "on people's opinions on art."
Oh really? Because it seems to me that removing the video
as quickly as possible
is certainly a comment "on people's opinions on art."
Let me tell you that it is
unheard of
for a major art museum to alter an exhibition in response to criticism like this (the Corcoran's Mapplethorpe fiasco aside), particularly from such dependably, perpetually offended fringe groups like CNS News. And do they really think this will mollify them, when they made it clear that they hated the entire exhibition?
What a bunch of spineless cowards. As an employee of a museum which –thank goodness– is not part of the Smithsonian, I am beyond appalled.
Image: Wojnarowicz' incredibly appropriate self portrait,
via Wikipedia
.
UPDATE – I just realized that tomorrow is World AIDS Day. What a great time for the Smithsonian to censor an allegorical video about the suffering caused by AIDS. Well done.
EDIT: Eric Cantor has demanded that the entire exhibition be pulled, so this isn't over yet. It's obvious that the Smithsonian yanked the video because that's what CNS complained about the most, and they hope that removing the video will pacify them. It won't; it will empower them.
UPDATE: Blake Gopnik, the
Washington Post
's art critic and a writer who I generally dislike, has an outstanding condemnation of the NPG's cowardly act of self censorship
here
. Please also see artist/writer Dale Hoyt's excellent comment on this post in which he further elucidates the horrible irony of the connection attacks against art by "conservatives" have to World AIDS Day.