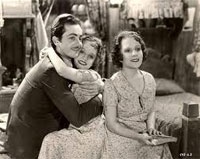 Your next senator from Nevada? She's crazier than you even think! Ms. –sorry,
Mrs.
– Angle
spoke to a church
recently, and maybe she was pouring on the Jesus sauce a little too heavily, but gosh, she sounds like the real thing to me.
Actually, Sharron Angle is the type of Christian extremist I've been waiting for in politics: the kind that goes beyond mere abortion decrying and hairdresser bashing and into the much more rarefied air of preaching against alcohol, gambling, contraception and, in Angle's case, divorce:
"I confess that we are a nation who has killed our children. I confess that we are a nation who has walked away from the family and allowed divorce, even among our ranks. We have walked away from the biblical definition of marriage: one man, one woman, the two become one flesh."
She then goes on to make a Biblical case for ending Social Security and Medicare. Clever!
Get ready for Senator Angle! This should be fun!
(Photo: Conjoined twins
Violet & Daisy Hilton
with a suitor, from the motion picture
Freaks
)