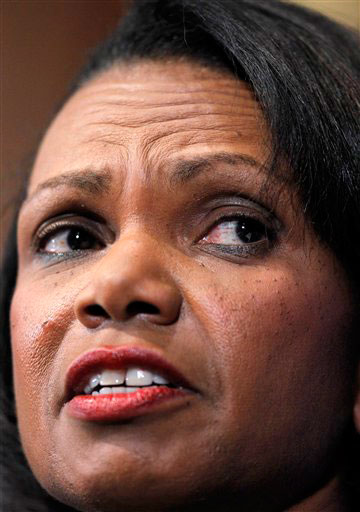 Former Secretary of State Condoleezza Rice speaks at a luncheon at the National Press Club in Washington, Friday, Oct. 15, 2010. (AP Photo/Alex Brandon)
Ugh, I really didn't want this to happen, so I waited and waited, assuming the White House Flickr page or somebody else would come to our rescue with nice shots of Condi 'n' Obama in a nicely staged matching armchairs photo, but no. It didn't happen, so we're stuck with Klingon Kondi. Tsk.
What did Condi and Barack talk about? "Books and foreign policy" are
about as specific
an answer as we're going to get. ABC News
says
they discussed a "wide range" of foreign policy issues, but the meeting was only 30 minutes, so wow, wide range. Oh, Condoleezza, you are so boring these days! I mean, I suppose I didn't expect her to be swinging from chandeliers during her book tour thing, but still! Loosen up, girl!
Speaking of the book, the LA Times finally
reviewed it
, and the phrase "readers hoping for candor and insight might not find much" pretty much says it all. Indeed, the reviewer only managed to squeak out seven tiny paragraphs about the thing before falling asleep. The only takeaway from it is that we learn that other mean kids called her "watermelon head," not because she was black, but because she was a nerd with a big head. And speaking of big heads, this is telling:
She scored 136 on an IQ test at age 6, she reveals, "good but not Mensa level." It was a rare setback (and one reason, she notes, that she doesn't trust standardized tests).
So there you go: Condi thinks she's a genius.