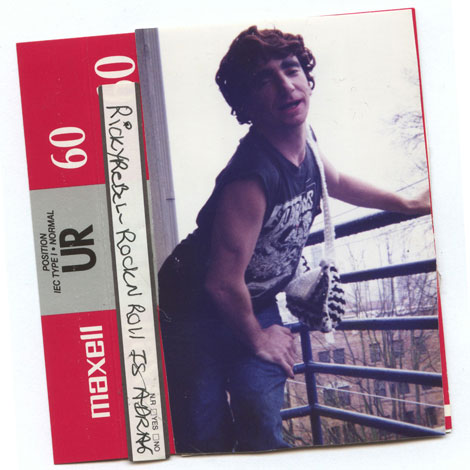 Is anybody listening to these? Admittedly, the descriptions of the earlier two cassettes I posted don't make them sound too promising. This one is different, however, recorded in Seattle in 1996. "Rock 'n' Roll is a Drag" is much more sophisticated, featuring electric guitar, keyboards, drum machine, and even some double-tracked vocals. Now, when I say this tape is "more sophisticated," don't take that to mean that it is, in fact, sophisticated: technical issues abound, the instruments are overmodulated, etc. Still, it's quite a step up from his San Diego recordings.
And it's a lot of fun! There are 22 songs, and it really rocks. Two songs, "Coma" and "Satan's in My Underwear," are as good as anything produced in the 90s. Other titles include "You Bitch-Slapped Me Real Hard," "Killing the Spirit of Jim Morrison," "I Still Love You, You Fuckin' Jerk," and not one, but two songs about stalking Eddie Van Halen. It starts getting repetitive at the halfway mark, but if you are curious at all about Ricky's music, this is the one to check out. Here's the inside cover: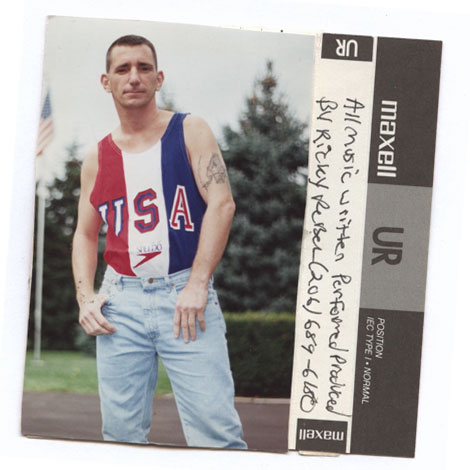 Here's the front of the song list (click both for bigger):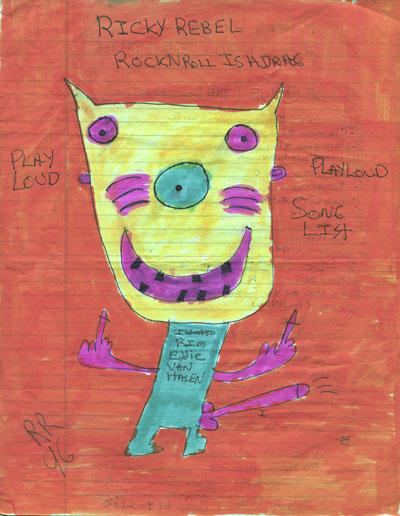 And the back: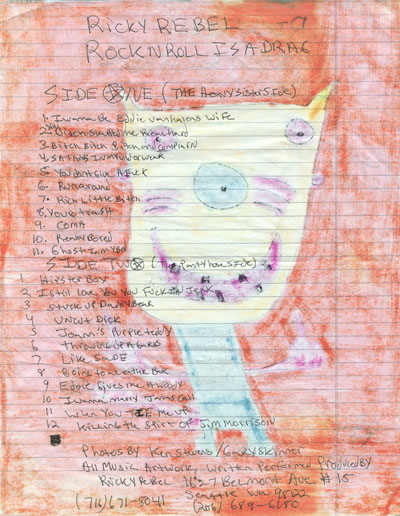 Again, I really recommend this tape! The mp3 files weigh in at 173mb and are zipped up and available for download
here
.