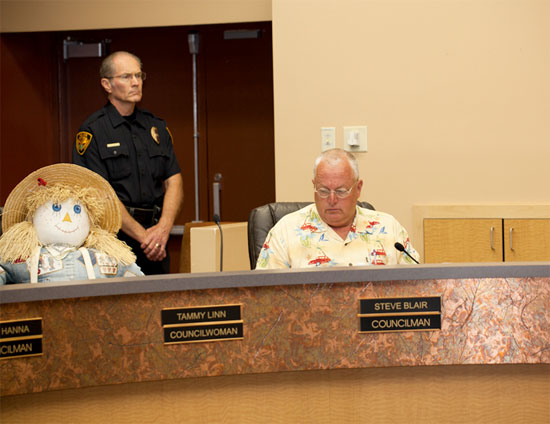 PSP Prescott correspondent "J" sent the above picture. J explains (?):
One of the council members was out today so they put a scarecrow in her council chair, nothing like professionalism and class.
It's nice to see that the straw councilwoman was provided with an armed police escort to protect her from any possible outrage prompted by her controversial views.
And on the right, wearing a foul Hawaiian shirt*, is everybody's favorite
mural-hating bigot
, Steve Blair. Blair, you'll recall, was fired from his radio host job. Now, however, the same station who fired him, perhaps aware the story had faded a mere two weeks later,
has rehired him
, making one wonder why they bothered to fire him in the first place.
*Some people, especially East Coasters, will find this surprising, but there's a long tradition in Arizona of politicians dressing casually on the job. When I was growing up in Tucson, I remember our longtime mayor, Lew Murphy (I attended his daughter's shotgun wedding!), almost always wore a Guayabera shirt in public. In fact, thanks to the magic of the youtubes, you can see him wearing one
here
.