This post is really just an excuse to post some amusing anagrams of "Don't Tread On Me," the teabaggers' favorite phrase. There are
so many
! Like this one:
Excuses aside, it was interesting to read E.J. Dionne's
column
about the Tea Party crowd and the "new" right in this morning's
Washington Post
. Like so many, Dionne points out that the "new" loony conservatism is different from yesterday's loony conservatism, the Christian fundamentalist kind, and more like day-before-yesterday's loony conservatism, the John Birch kind.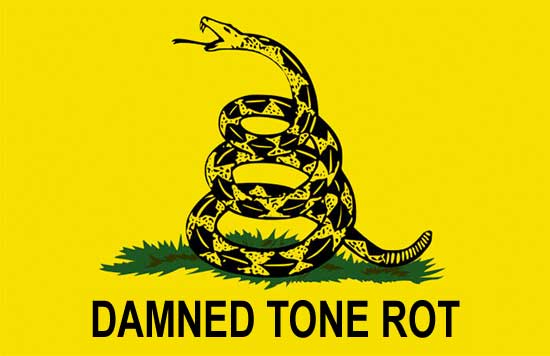 But here's the rub: Dionne is overlooking certain truths about the "new" conservatism. Instead of explaining, I'll just display it in a Venn diagram:
And there's a more worrisome matter of course, which E.J. only hints at in his column:
A group called Tea Party Patriots (many Tea Party groups include the word "patriot" in their names) [...]
Ah, yes, the Patriot Movement™! Otherwise known as the militia kooks. Let's add them to the diagram:
Now, of course, a lot of people (like me!) will point out that these groups really don't play all that well together, they embarrass each other, etc., and the Tea Party movement is destined to dissolve as a result. In the meantime, though, whoa, scary.
Anyway, ha ha, here's another anagram:
Happy Monday!