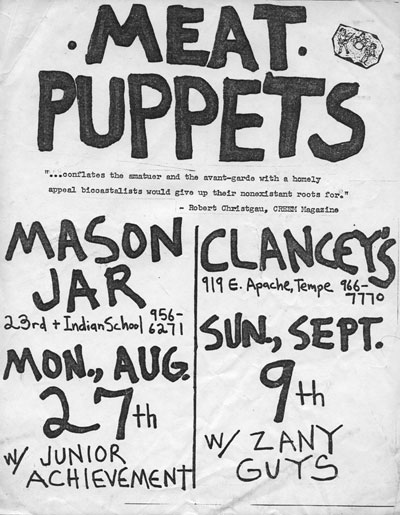 Click for bigger. I think Clancy's is misspelled?
Oh, hey, sorry, I did say I would post the rest of these, didn't I?
OK, so this show was recorded in Phoenix not by me, but by my friend Steve (I was back at school in San Diego). The recording is a little bass-heavy, but otherwise very good quality. Of interest to Meat Puppets fans are an early, hypnotic version of "Up on the Sun" and primitive versions of other songs from the album of the same name, a cover of the Beatles' "Polythene Pam," a surprising cover of "Dominique," and an unbelievably noisy instrumental "Hot Pink" which dissolves into complete chaos.
It's 68 minutes, and the zipped mp3 files can be downloaded
here
.