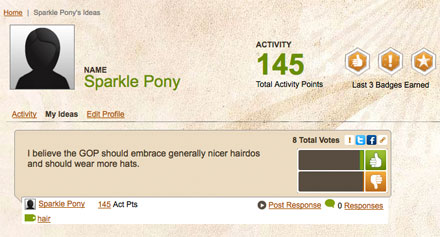 Oh,
americaspeakingout.com
, I love you. You've gone from cute morning news story to being an utterly useless (but diverting!) joke in less than a single news cycle. It is currently difficult to find a single "serious" comment on the entire site.
I wonder how much they spent on this totally fun new toy? Lots, I bet. I love it!
UPDATE – This one might be my favorite:

And finally, I tried to submit "The Vs are not our friends," because I am hilarious, but it totally crashed or something.
UPDATE – Friday: It seems like things have calmed down a bit, but it's still pretty troll-y, useless.