Both images 1984
Warning: this post is a little name-droppy/braggy; sorry about that.
The punk/new wave scene in Arizona in the early 1980s was tiny. If you were into it, chances are either you or your friends were in a band, and everybody knew every band because... well, because there just weren't that many of them.
The
Meat Puppets
, from Phoenix, started playing in 1980 and quickly became notorious for several reasons: they were absolutely crazy, they were astoundingly good musicians, and they rarely sounded the same twice. They were not beloved by all. One night they'd play just the most blistering, fast, grinding speed-punk, and then the next week they'd play Neil Young and Funkadelic covers while the audience booed in dismay. I saw them several times in 1981 and 1982 and thought they were great.
In 1983, my friends and I finally decided that the Meat Puppets were pretty much the best thing ever, and this was great timing because the band was entering a period of heightened activity, gigging a lot in both Phoenix and Tucson and, eventually, finally releasing their long-awaited second album in 1984. We saw them every chance we got.
We also hounded them like the star-struck teens we were. Don't forget that these were tiny clubs; there were no dressing rooms, so there was nowhere for them to hide. Curt, Cris and Derrick were a little stand-offish at first because, I mean, who the hell were these obnoxious kids? I think, too, the band had gotten used to having more than their fair share of "haters," and Curt later told us that at first he thought that we were mocking them or something, but then realized that we were hardcore fans when they noticed that we were showing up to all of their shows, even the ones in Phoenix. Then, Curt also realized that my brother (whose photographs of Arizona you've been enjoying lately here at PSP) was a college buddy of his.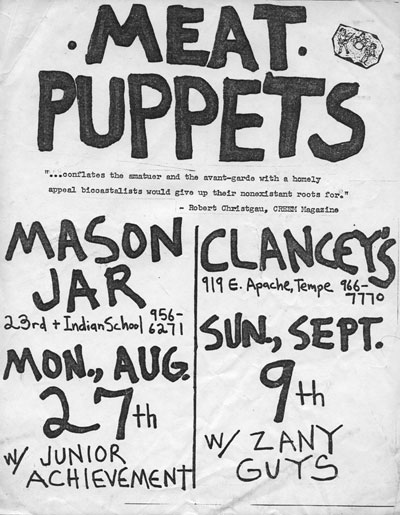 After the ice was broken, the Meat Puppets were always nice to us, and we had a lot of fun hanging out with them in the various bars' parking lots when they played. Brothers Curt and Cris always struck me as kinda strange guys in a can't-put-you-finger-on-it way. They were both super-smart. Kurt was the more abstract of the two, usually very mellow, spacey. Cris was more hyper; he always reminded me a little of David Patrick Kelly's character in The Warriors ("Warriors, come out to playyyy!").
Derrick
was more down-to-earth, less disorienting to talk to, also very smart and loved to talk about music and art, as they all did. They also did the greatest thing: most of the bars they played at in Phoenix (like the Mason Jar) didn't let minors in, and until we all finally turned 19, they would let us pose as "roadies" so that we could sneak in through the back doors. They also let us tape their shows, and I still have a dozen or so great ghetto-blaster recordings of superb 1983-1985 shows.
After I left Arizona, I kept up with them for a while. Their sound got a lot less crazy, more mainstream sounding, and even though they were still incredibly talented, I eventually lost interest in their recordings. Their early stuff still sounds good to me, though. Their studio sound never quite captured the thrilling chaos of their live shows; I feel lucky to have seen them dozens of times. I'm glad to see that they're currently enjoying a comeback.
So that's my Meat Puppets story: a great band of great guys who provided some fantastic memories. Hats off to them!