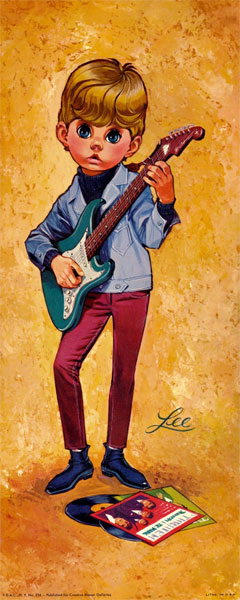 Click for sumptuously bigger.
Oh, I am so very grateful to Pony Pal™ J. Frigg, who has sent in a scan of this magnificent big-eyed hipster for our enjoyment. I was aware that "Lee" painted groovy go-go pre-teens, but I don't have any examples of those myself, so I am very thankful that Mr. (Mrs.?) Frigg sent this. Lee's swingin' adolescents are more iconic, more fun than his
depressing orphans
. The style of the clothing and fake record covers puts this squarely in the mid-1960s.
"J" wondered if this one had a matching girl pendant, and I'm certain it did; I'm pretty sure I've seen it. I seem to recall it as showing a dancing tambourine player, her dark hair swaying. So good.
This is the style hilariously parodied for the cover of "If I Were a Carpenter," the fab
Carpenters tribute album
.
Thanks again, J. Frigg, and I welcome any and all contributors to the celebration of big-eyed art here on PSP! Yay!