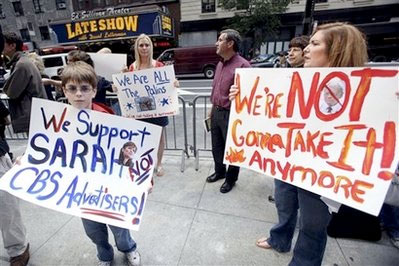 Susan Wynalek, right, of Coltsneck, N.J., her daughter Stephanie, center and son Brett participate in a 'Fire David Letterman' rally to protest his jokes about Sarah Palin and her family across from the Ed Sullivan Theater, Tuesday, June 16, 2009 in New York. (AP Photo/Mary Altaffer)
I take it back: I totally am NOT the Palins. Seriously. I can prove it.
But whatevs. Oh, speaking of Sarah Palin, I was impressed with Kenneth Walsh's perfectly summarized "
State of the GOP
" piece in US News. Walsh just boils the whole thing down so well. Two glittery hooves way up! My favorite part is how he says Sarah "mystifies and annoys" the GOP bigwigs. My second favorite part is how he doesn't even mention Bobby Jindal. My third favorite part is that he accurately describes Mitt Romney as an "also-ran" in the last election. So the article is mean, concise, and accurate, and we love those.
Meanwhile, Debra Saunders, who used to defend Sarah from all us meanypants, says
the victim act
is tired and has got to go, and PS: please take Newt Gingrich with you. So there's that.