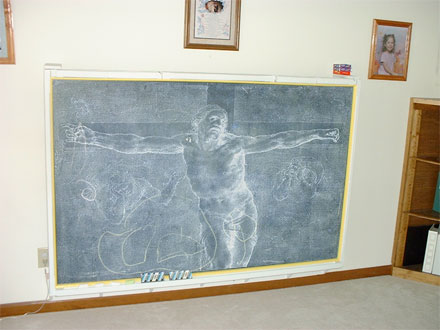 Whoops, there seems to be a problem with an insufficiently god-despising school teacher in Ohio.
See how I did that? Wow, that was fun writing like Ann Coulter for a second.
Back to the story!
One News Now reports
:
A Christian teacher in a public school is being hailed as "a hero of the faith."

John Freshwater, an eighth-grade teacher in Ohio, filed suit this week against the Mount Vernon City School District and district officials, claiming they violated his free-speech and civil rights when he was released. The $1-million lawsuit claims he was fired by the district last year over accusations that he preached Christianity in class. He also says he was harassed because of his religion and was discriminated against because of his involvement with the Fellowship of Christian Athletes.
That sounds unfair! Let's see what the representative from the Christian Educators Association has to say about this:
"I am pleased to see a public school teacher like John Freshwater willing to go outside his comfort zone and fight for the religious freedoms our forefathers guaranteed is through the U.S. Constitution," says Laursen. "It is imperative that all Christian educators, students, and parents be willing to step forward to insist on their rights -- or those rights will slowly be forfeited.

"John is proving to be a hero of the faith," he adds.

In firing Freshwater, the Mount Vernon school board cited an internal investigation that found he had preached his Christian beliefs in class. Freshwater, a teacher for 24 years, was also accused of using a scientific device to burn a cross image onto a student's arm and of keeping a Bible on his desk.
Surely a teacher can simply have a Bible on his desk, and...
wait a minute
... what's all this about burning crosses into students arms?
Time to switch to another source. Hey, fair & balanced!
Here's more
from Americans United for Separation of Church 'n' State:
In Mount Vernon, Ohio, science teacher John Freshwater is suing the school district, saying he was improperly fired. District officials say Freshwater preached in class, disparaged evolution and criticized gay people. He's also accused of using an electrostatic device to burn crosses into the arms of students. One child reportedly had blisters for several days.

The Mount Vernon School Board took this matter seriously. When complaints were raised against Freshwater last year, the board investigated them.

The Columbus Dispatch reported, "The board announced last June that it intended to fire Freshwater for preaching his Christian beliefs about how the world began, discrediting evolution and deviating from the required science curriculum. An investigation initiated by the board found that Freshwater used a high-voltage lab tool to burn crosses into the arms of students and that he told them gays were sinners."
I'm still intrigued, and I totally want to know more about the circumstances in which a public school teacher literally
brands
students with the sign of the cross.
He is "a hero of the faith" indeed.