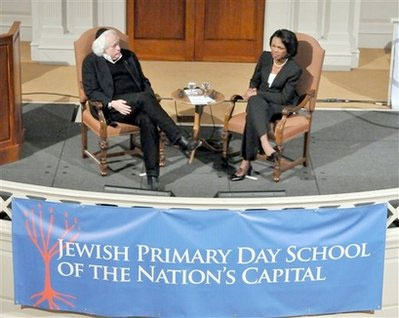 In this photograph provided by Rabinowitz-Dorf, Leon Wieseltier, left, talks with former Secretary of State Condoleezza Rice at the the Jewish Primary Day School of the Nation's Capital in Washington Sunday, May 3, 2009. (AP Photo/Rabinowitz-Dorf, Ron Sachs)
Oh look, it's Matching Armchairs LIVE! Yay! I believe this is the first MAPO since Condi left Foggy Bottom, so it's historic, I guess.
But it seems that all anybody wants to ask Condi about these days is torture, which is icky and totally rude because it makes her uncomfortable. This time it was a fourth grader who wanted to
ask the question
newspapers refuse to ask, and as you can see, it made Condi's meet-children-cute thing a little tense: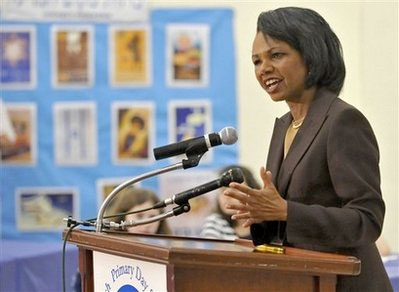 (AP)
So the kid was all, like, "OMG, which Jonas Brother is your favorite and why did we, like, torture 'n' stuff?" Condi then scrunched up her forehead and gave her standard response, which is, "OMG, we were so scared after 911 that we made sure to declare everything legal so that the President wouldn't break any laws." See? Such a simple answer! Why do people keep asking about it? Sheesh! Look, it's a simple logic problem:
We didn't torture.
We DID use the technique called waterboarding.
Therefore waterboarding isn't torture.
Even a child should be able to
unravel
understand that logic.