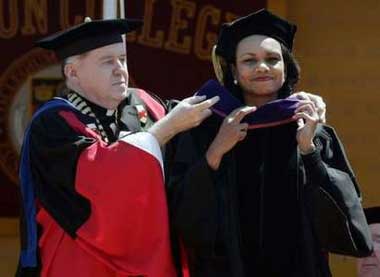 (Reuters,
05-22-06
)
It's Monday, so that means Condi is
back at Stanford
! Having tea parties with Thomas Sowell at the Hoover Club or whatever! It seems like she'll mostly be in her office "writing" her books, so that doesn't sound very hard. I hope Condi knows that PSP is here for her as a very orderly photo-op reference! I look forward to seeing the footnotes.
But! Hey! Professor Ferragamo will be teaching, too, and just
what
she'll be teaching sounds pretty familiar:
As a professor, Rice has said, she hopes to lead future courses on international politics, with a focus on decision-making. Specifically, she seeks to teach "decision simulation," where students are pressed to think about real-life questions and choices and not just abstract policy.
Ooh, that's really good:
decision simulation
. That should be the title of her book. What a great description of her last eight years!