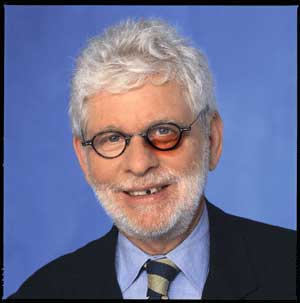 My first idea was to title this post "Will Somebody Please Kick Richard Cohen in the Balls?" But then I thought, no,
that would be wrong
. And that thought put me, basically, on moral ground high, high above Mr. Cohen.
Not only does he say we shouldn't investigate the Bush administration for its role in approving torture,
Cohen defends torture itself
(All those studies which demonstrate it isn't effective? "Counterintuitive."), saying it's perfectly acceptable as long as the torturers' hearts are in the right place:
At the same time, we have to be respectful of those who were in that Sept. 11 frame of mind, who thought they were saving lives -- and maybe were -- and who, in any case, were doing what the nation and its leaders wanted. It is imperative that our intelligence agents not have to fear that a sincere effort will result in their being hauled before some congressional committee or a grand jury. We want the finest people in these jobs -- not time-stampers who take no chances.
Pesky grand juries! Plus, he totally heard torture worked once, and Jonathan Alter and Alan Dershowitz said it was OK (not really, but it's the best he could find), so as long as those people were just following orders (The Nuremberg defense!) and thought good thoughts while they were simulating the effects of drowning or breaking the limbs of their victims, I mean... hey, 9-11! Also, Bush's approval ratings were super high, so obviously we're all to blame in a kooky way, right? Sheesh! As Cohen says, "Congress overwhelmingly voted for war and the American people overwhelmingly supported it," so, therefore, anything goes. Never mind that we were, you know, overwhelmingly misinformed and lied to.
God, I didn't think it was possible to want to punch Richard Cohen in the face even more.