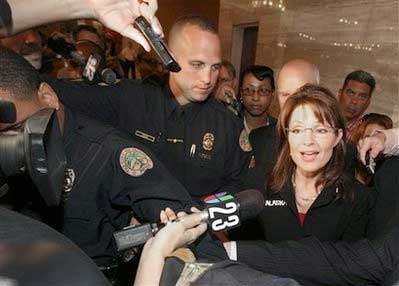 Alaska Gov. Sarah Palin speaks to reporters as she arrives at the 2008 Republican Governors Association meeting in Miami, Fla., Wednesday, Nov. 12, 2008. Palin said Wednesday that a woman would be good for the Republican presidential ticket in four years. (AP Photo/John Watson-Riley)


Some idiot Palinophile left a comment here yesterday (which I deleted, natch) whining, basically, "Give it a rest, the election is over." But, oh, nuh-uh, not so fast! Besides being an obvious and irresistible target for satire 'n' catty bitchiness, there are some totally good reasons to not let up: 1. She's a politically dangerous Christian lunatic. 2. Any attempt to take her seriously must be counteracted. 3. Her lies are pernicious. 4. She fosters ignorance and insipidity. 5. She's ambitious and would like to rule you.

OMG, I'm totally using words her fans wouldn't understand! Want better, more serious reasons? Head on over to Sarah Enemy #1's place and read the most succinct summary of why this frightening woman's political career must be stopped.
UPDATE: Also read this outstanding critique of recent Palin coverage at Columbia Journalism Review.