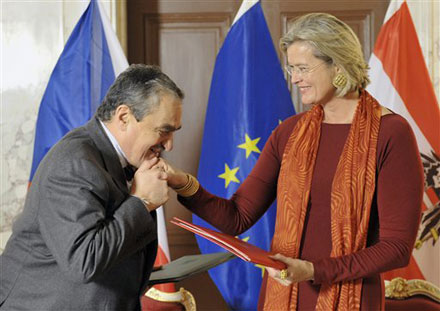 Foreign Minister Karel Schwarzenberg from Czech Republic, left, kisses the hand of Austrian Foreign Minister Ursula Plassnik after signing a culture agreement in Vienna, Austria, on Friday, Nov. 21, 2008. (AP Photo/Hans Punz)
I'm so mad about this! OK, that's the Kübler-Ross Grief Cycle™ gag out of the way. But seriously! I mean, one moment you've got the Czech foreign minister kissing your ring, being treated as the goddess you are, radiating power from your mighty scarf, and then... two days later! Just two days later, and you're resigning and jobless! Boo!
Some very helpful Pony Pals helped me understand why La Plassnik resigned. She was unwilling to work with people who wanted to subject, like, random EU decisions to a public vote, like, three times a week or something. So, what, Ursula doesn't enjoy the idea of every bureaucratic decision getting politicized, and so you cast her aside like an unfashionable brooch? Ursula
frankly speaks
:

"I was not ready to serve as an EU warranty or fig leaf for a government where some of its members do not distance themselves enough from a fruitless and energy consuming alliance with EU-critical forces," Ms Plassnik told Die Presse.

Ursula Plassnik didn't want to continue as a foreign minister because of the new coalition's EU policy (Photo: Austrian EU Presidency)

The minister's center-right OVP party formed a "grand coalition" with the populist Social-Democrats (SPO) at the weekend, following two months of talks that locked Austria's resurgent far-right factions out of power.

The new SPO chancellor, Werner Faymann, declined to insert a clause into the coalition pact guaranteeing that future EU treaties will be ratified through parliament instead of referendums, prompting Ms Plassnik's departure, she explained.

[...]

"It is not about cutting 'the people' out. Mr Dichand [the editor of Krone] is not 'the people.' It is about explaining carefully and clearly the EU and its co-operation with Austria. The EU must not be chased as a scapegoat through the villages. This is false and brings Austria to a dead end. And Austria is no dead end country," Ms Plassnik told Kleine Zeitung.

A coalition cannot assume governing responsibility and have an "official pro-EU line," but at the same time "enter a coalition with EU opponents," she added. "It shouldn't be the case that Austria becomes a risk country [in terms of future EU integration]."
OK, so I understand just enough of all that EU stuff to know what they're talking about, but I don't know enough to interpret it. I kinda want to side with Ursula, but that's just because it's Ursula! And I don't blame her for, um, not wanting to be a fig leaf!