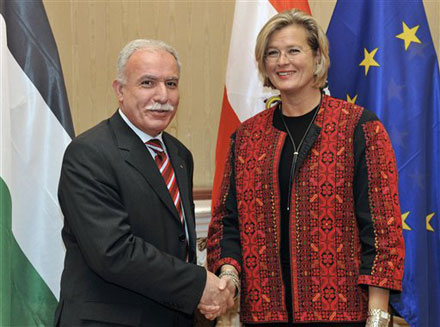 Austrian Foreign Minister Ursula Plassnik, right, welcomes Palestinian Foreign Minister Riyad al-Maliki to the Palestine Ambassador conference in Vienna, Austria on Friday, Nov. 14, 2008. (AP Photo/Hans Punz)
I've been neglecting the wonderful Austrian giantess lately, but just will you look at Ursula last week! So divine. And look how happy al-Maliki is just to be lucky enough to be near her. Oh, Barack, can't you pick Ursula for something?
I love the gorgeous, folksy jacket, and I really love the understated (for Ursula) bolo-style necklace. Superb, Ursula, superb.
Kinda hit-and-run this morning, but I just wanted to post some Ursulalove! Yay!