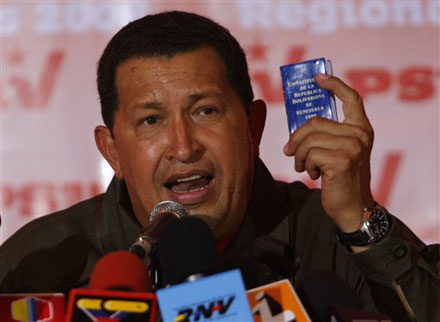 Venezuela's President Hugo Chavez holds a miniature copy of his country's constitution as he speaks during a news conference after the National Electoral Council (CNE) announced the results of state and city elections in Caracas, early Monday, Nov. 24, 2008. Chavez's allies won a majority in Venezuela's local elections, but the opposition made important gains, capturing the Caracas mayor's office and two of the most populous states. (AP Photo/Ariana Cubillos)
OK:
WARNING!
I totally don't know about what's going on in Venezuela, so you best look for the "story" elsewhere; I just think Hugo Chavez is funny. Don't you? I do. And I love that he has this thing for
waving books around
, spokemodel-stylee, at the podium. It's so fun! You know what would be totally, totally fun? If Chavez did his speeches while holding up and tossing aside the cue cards, like in that Bob Dylan video thing. Ha, ha! Oh, Hugo, you
ARE
a lot of fun, but you could be way more funner.