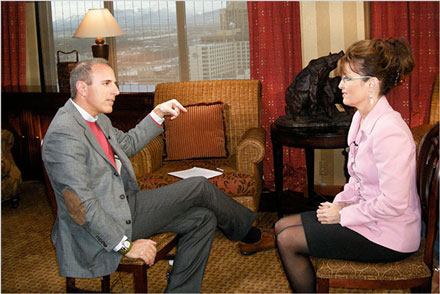 (NBC News)
I was oddly disappointed with Matt Lauer's and Greta Whatshersame's interviews with Sarah Palin over the last few days. She's totally stuck on repeat, isn't she? Blah, blah, blah, the campaign wardrobe stories are false, blah, blah, blah, I never tried to get books banned, blah, blah, blah, people saying mean things about me are... mean. Or bloggers living in their parents' basements. Whatever.
So I was relieved to read the
post interview analysis
by error-prone
NY Times
TV scribe Alessandra Stanley, because she points out two wonderful things: Sarah Palin remains utterly, completely self-obsessed, and she will never, ever admit that she did anything wrong or even that she could have done anything better. Never once was there a moment of self examination apparent in these TV appearances, neither a whiff of regret for a stumble nor an acknowledgment that, you know, maybe she should brush up on a thing or two so as not to look like an overreaching cheerleader trying out for the debate squad. This magical combination of personality flaws guarantees that Sarah will continue to be entertaining for years to come, even if her chats with Matt 'n' Greta were duds.
What a relief! Praise her!