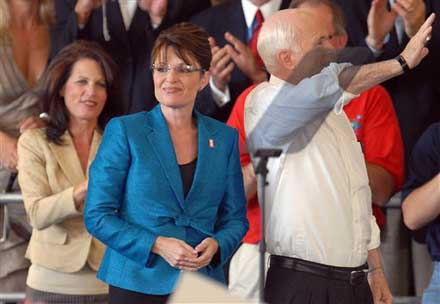 (AP Photo, 09/19/08)
I've got to admit that I'm super-happy that Michele Bachmann got reelected, because
everybody hates her
and she'll be powerless and unhappy in congress anyway, so she can continue to be humorous and dumb and, oh, just one of my favorite politicians EVER. Here's
what she thinks
of all the mean things people said about Sarah Palin:
A conservative Christian congresswoman says although the attacks on Sarah Palin's reputation leveled by McCain campaign insiders are "over the top and hurtful," they will embolden base conservatives to rally to the Alaska governor's cause even more.

Anonymous McCain aides have been quoted in various media outlets as saying that the governor did not know Africa was a continent and could not name the three countries in the North American Free Trade Agreement. She has also been blamed for McCain's defeat and accused of ignoring the advice of McCain advisers during the campaign.

Congresswoman Michele Bachmann (R-Minnesota), a staunch supporter of Palin, says it is disappointing that McCain campaign insiders would be so "vicious" in their attacks against Palin -- not to mention so soon after the election.
Wheee! This is Michele Bachmann, who almost lost her seat by calling Obama "anti-American," complaining that people were "over the top" about Palin. Oh Michele, don't ever stop being Michele. And by
being Michele
I mean, of course, being an amusing idiot.
Bachmann/Palin in 2012!