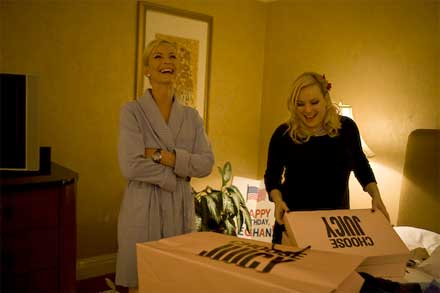 Image via McCainBlogette.com
Awwww... I am really going to miss the FANTASTIC Cindy, and coming across these photos of her in her bathrobe on daughter Megan's
inane blog
proves that she looks incredible in anything and everything. I'm a little disturbed that she's giving the gift of what must be horrible fashion to Megs, but let's assume it was a requested brand, not Cindy's choice, OK? Because Juicy Couture... just... no. Unacceptable. Sorry. Let's look at Cindy again:
She looks like a fun mom! But oh, noes! Here comes somebody icky: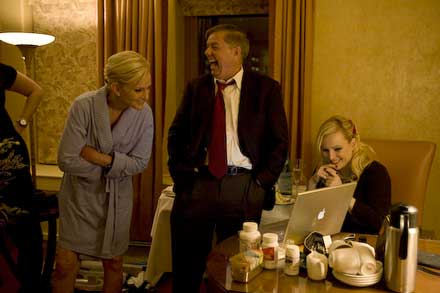 Watch out, Cindy! Knot that belt!
Oh, Cindy. I'm going to miss you most of all. You totally don't need this campaigning nonsense, and you looked so happy it was over on Tuesday night! You couldn't disguise your relief, so I'm super happy for you. On to better and more fabulous things! But please, Cindy, don't disappear completely; I don't think I could take it.
And do I really need to say this one last time? I do: NO MEAN COMMENTS ABOUT CINDY. She is superior to all of us!