Supporters of Republican vice presidential candidate, Alaska Gov. Sarah Palin, listen to her speak at a gymnasium at Shippensburg University in Shippensburg, Pa., Tuesday Oct. 28, 2008. (AP Photo/David Guttenfelder)
Uh, oh, the Sarah Palin fans are confusing me again! OK, so the t-shirt is one of many "Sarah as
Rosie the Riveter
" designs, but this one makes no sense! Sarah-as-Rosie declares that
She Can Do It!
To whom is she referring? I just totally don't get it.
But that's OK! Because in trying to find this specific, nonsensical shirt, I discovered the
greatest design in the history of the universe
, one which I will happily buy for myself and wear with pride: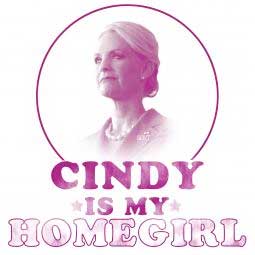 YES. Actually, I better get two: one for me, and one for
Sparklemom
.