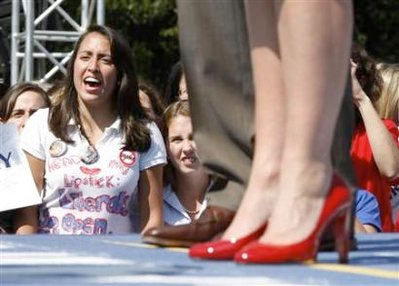 A supporter of Republican vice presidential candidate, Alaska Governor Sarah Palin, shows off her t-shirt as Palin's red shoes are seen on stage during an outdoor rally in Fairfax, Virginia, September 10, 2008. (Jason Reed/Reuters)
OMG, forget the stupid t-shirt because we just have to discuss these horrible shoes! I was unable to identify the maker, but I'm thinking these are low or mid-price pumps, and they are what strippers call "show heels." I am totally not even convinced they're leather.
I mean... you have just got to be totally kidding me. If those shoes don't demonstrate her unsuitability for public office, nothing will.