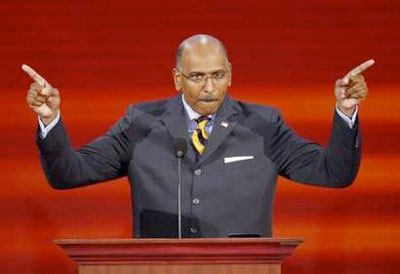 GOPAC Chairman and former Maryland Lt. Governor Michael Steele gestures from the podium at the 2008 Republican National Convention in St. Paul, Minnesota September 3, 2008. REUTERS/Mike Segar (UNITED STATES)
OMG, so good!
Go there
right now! "(Michael) Steele's speech was very energizing." Yay!
Ha, ha:
Rpmney is talking about the "elites in the east", "they should now look to the west in Arizona and Alaska for change"
So saith the filthy rich former Governor of Massachusetts!