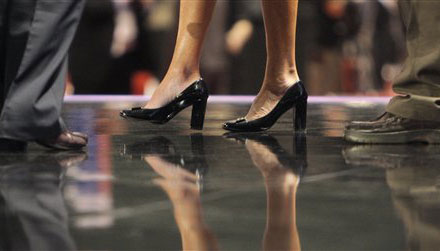 Cindy McCain, center, wife of Republican presidential candidate Sen. John McCain, R-Ariz., walks onstage during a walk through at the Republican National Convention in St. Paul, Minn., Wednesday, Sept. 3, 2008. (AP Photo/Jae C. Hong)
Yes! Finally! It's so exciting! We've already seen tantalizing glimpses, and I think I can safely state that we ALL knew
Lady Penelope
would have fabulous taste in shoes (
just like her husband
!). Well then, here we are, thanks to the Associated Press, with a chance to play our favorite game, identify the expensive shoes!
Now, I'm not absolutely positive on this one, but my guess is that they are close relatives of
these $600 Michael Kors pumps
. And they are fabulous! And sturdy!
But like I said, I'm not 100% comfortable with my guess. Anybody else care to have a go?