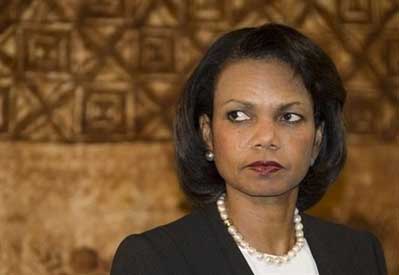 US Secretary of State Condoleezza Rice, seen here in July 2008, said Friday that she looked forward to further improvements in ties with Libya after Congress passed legislation paving the way for Tripoli to compensate US terrorism victims. (AFP/File/Brendon O'hagan)
Ha, ha, whoopsie! My goodness, I've been absent lately, huh? Well, you know, Summer doldrums 'n' such. But OMG, only, what, two posts last week? As fond as I am of pointing out that I'm not a professional blogger, I've got to admit that's pretty bad.
So anyway, I promise I'll resume blogging daily. Trouble is, I'm kinda over politics right now, so maybe I'll blog about something else. Any ideas?
Oh, and the picture above? Don't you love it? So does Yahoo News, because they keep using it over and over. It's shiftylicious!