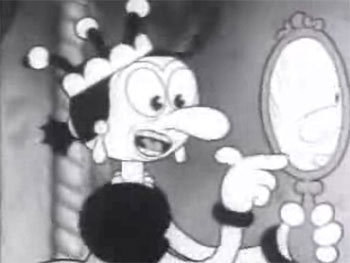 Has anybody else noticed this? I'm not going to name any names, but 90% of the stuff I'm reading from bloggers in Denver is cracking me up. HERE I AM being patronized by a congressman! HERE I AM sitting in the vicinity of professional journalists! HERE I AM with other bloggers writing about themselves! HERE I AM being taken seriously, for some reason, by a local newscaster!

OMG, I can't wait for the Republican version.
UPDATE: Ha, ha, Columbia Journalism Review just posted a hilarious article saying, basically,
exactly the same thing
.
Updated with a better still from Betty Boop's
Snow White
here
.
UPDATE: Look at
this post
and wonder if it's intentional parody or what?