US Secretary of State Condoleezza Rice signs a missile defence deal with her Czech counterpart Karel Schwarzenberg at Cerninsky palace in Prague describing it as a step forward for global security despite staunch Russian opposition. (AFP/Joe Klamar)
Condi actually
accomplished something
today! I know, weird, right? This has something to do with the magic missile bubble they're going to put over Europe to keep the terrorists out, except that –whoopsie!– they're already inside the bubble. But the point is that somebody actually listened to Condi and did what she wanted them to do, and we haven't seen that in a long, long time. Neat!
So here's the pair of 'em, holding up their fancy books and kinda saying
nyah nyah nyah
to the Russkies: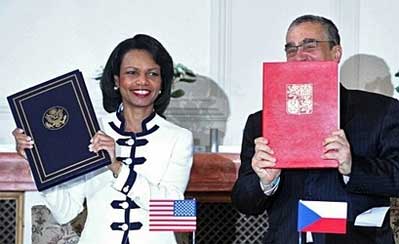 (AP)
And then Condi did her best to stir up as much Iranophobia as possible, and then they went for walkies:
(Reuters)
And all in her fabtastic Sgt. Pepper ensemble. I bet she wished every Condiday could be this good! So, like, go Condi! Yay!