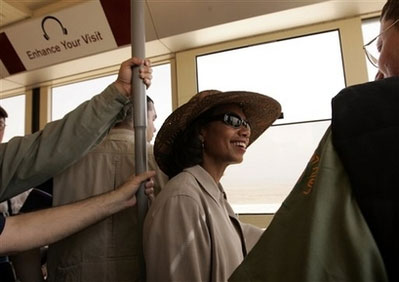 U.S. Secretary of State Condoleezza Rice talks with a guide as she rides the gondola after a visit tot Masada Historic Site, Thursday, May 15, 2008 in Masada, Israel. U.S. President Bush and members of the U.S. delegation toured Masada, the ancient fortress on a plateau in the desert overlooking the Dead Sea, said to be the place where Jewish rebels killed themselves and each other 2,000-years ago rather than fall into slavery under the Romans.(AP Photo/Susan Walsh)
Noteworthy hat! And those damn Chanel sunglasses! I LOVE YOU, CONDI. Strange place to visit, wouldn't you say? They're just carting her off to weird places to get her out of the way, I believe. Wouldn't you?
Later on, the hairdo still hadn't recovered:
U.S. Secretary of State Condoleezza Rice (R) is joined by Israeli Prime Minister Ehud Olmert (L) and Israeli President Shimon Peres (C) as they listen to U.S. President George W. Bush speak at a reception in honor of the 60th anniversary of the State of Israel at The Israel Museum in Jerusalem, May 15, 2008. REUTERS/Larry Downing (JERUSALEM)
Yay for Larry Downing! Why do they take him along? He always makes Condi look wonderfully awful. We love him, too.
But anyway, yes: