Austria's Foreign Minister Ursula Plassnik on Monday, April 21, said EU membership negotiations with Turkey should continue but Ankara should also be open to alternative models in its relations with the bloc. Turkey's Foreign Minister Ali Babacan said his country was aware of lack of support to his country's EU bid in Austria and some other EU countries but said prejudices and problems largely stem from lack of communication. (AP Photo/Burhan Ozbilici)
Yes! You tell 'em, Ursula! She also wore one of her mightiest scarves for the ceremonial dressing down: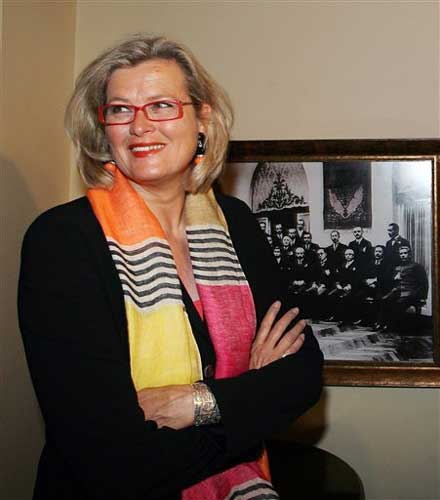 And her opponent? Hopelessly outmatched:
Look at him (Turkish foreign minister Ali Babacan), gazing up at the majesty that is Austria's affable giantess.
Is this wonderful apparition real? Is she my most desired fantasy or most dreaded fear? Will it hurt, and if so, for how long?
Meanwhile, Ursula's gesture says it all:
Shape up and call me in a year.
In other Ursulanews, today
she met
with some ecumenical guy who she praised for protecting the environment and fostering interfaith tolerance. Neat!