Chinese Premier Wen Jiabao, right, talks with U.S. Secretary of State Condoleezza Rice at the Zhongnanhai compound in Beijing, China Tuesday, Feb. 26, 2008. Rice said Tuesday she expects China to help prod North Korea into fully declaring its nuclear programs as part of efforts to breath life into a stalled disarmament process. (AP Photo/Ng Han Guan, Pool)
I always enjoy the matching armchairs shots where they have to stuff a bunch of translators and advisers discreetly behind the chairs. Peek-a-boo! To get a sense of just how grand this photo-op was, let's pull back a little: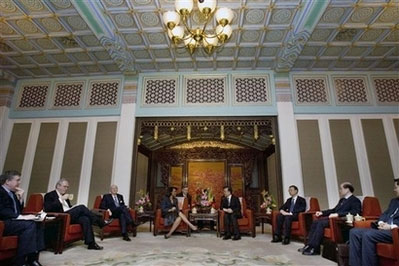 And not to be left out, the Chinese president had his very own MAPO moment with La Rice: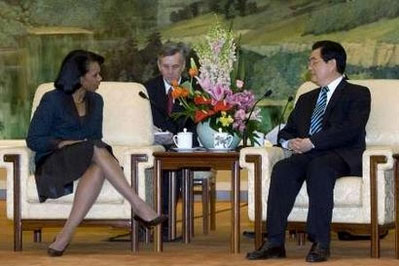 Well done, Condi!