This is so totally cute! Here's the Bad One taking a set of matching armchairs out for a spin:
U.S. President George W. Bush (R) shakes hands with the Special Envoy for Sudan, Richard Williamson, in the Oval Office of the White House in Washington January 17, 2008. REUTERS/Jason Reed (UNITED STATES)
Nicely executed photp-op! It's because he learned from the best! Because, indeed, look who's there to whisper on-the-spot tips to her dull-witted boss: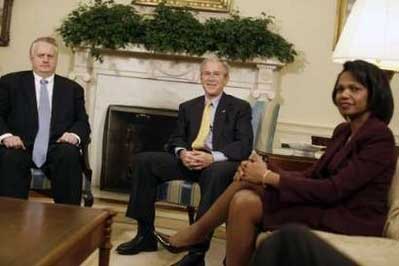 In other words, CONDI'S BACK!! I wish she had stayed over there a little bit longer because that was totally one of the best Conditrips of recent memory. Now we can all move forward with, I hope you'll agree, a renewed optimism for many more peculiar and uncomfortable Condimoments to come in 2008.
And, finally, a quick aside to my fellow DC residents: OMG, THERE'S A HALF INCH OF MELTY SLUSH ON THE GROUND! QUICK! CLOSE THE SCHOOLS AND GET INTO CAR ACCIDENTS!!!