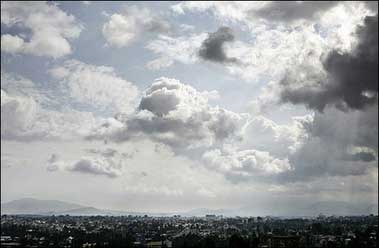 Secretary of State Condoleezza Rice flies Tuesday to Addis Ababa to consult regional leaders and ministers about how to defuse tensions and conflicts in the Horn of Africa, the Great Lakes and Sudan.(AFP/File/Jose Cendon)
Totally weird choice of picture, isn't it?
Thou shalt send Condi!
But, ha ha, the headline for the story says it all:
Low expectations as Rice heads to Ethiopia to defuse African conflicts
.
There's that
low expectations
thing again! It's exciting that she's going to Africa, though. Will there be some fun photo-ops? Will colorful fabrics be involved? Stay tuned!
UPDATE: Here's a
hilariously sarcastic editorial
about Condi's African Pitstop on an Eritrean web site. I think her reputation precedes her:
Putting Africa to rights in 24 hours: that is Condoleezza Rice's optimistic assignment this week. If last week's Middle East talks in Annapolis proved anything, it was that complicated, age-old conflicts cannot be solved, or even credibly set on the road to solution, in a single day.

Undeterred by this obvious truth, Condoleezza Rice arrives in Ethiopia's capital, Addis Ababa on Wednesday intent on putting Africa to rights. For this ambitious task, the US secretary of state is allowing 24 hours out of her busy schedule.