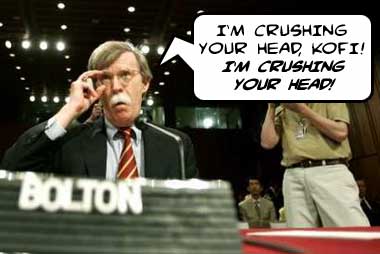 Fantastic! Everybody is all up in arms about the Intelligence Estimate thingy. Is this really a scandal? Read
this
and then get back to me.
So I guess the
Washington Post
invited John Bolton to
give his opinion
on the whole thing for... laughs? Neocon schadenfreud? And, indeed, the sense of desperation in his insta-op-ed is almost --almost!-- hilarious. Favorite part:
...the NIE suffers from a common problem in government: the overvaluation of the most recent piece of data.
LOL. You can almost hear him yelling, visions of yellowcake still dancing in his head, "No fair! That's
our
technique!"