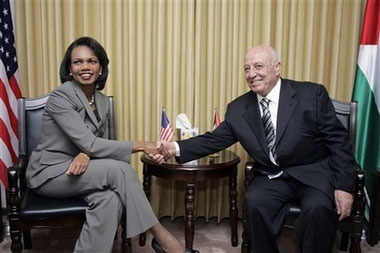 U.S. Secretary of State Condoleeza Rice, left, shakes hands with former Palestinian Prime Minister and chief negotiator Ahmed Qureia during their meeting in the West Bank city of Ramallah, Monday, Nov. 5, 2007. Rice should hand timetables to Israel and the Palestinians for meeting their short-term peace obligations, such as an Israeli settlement freeze and a Palestinian arms roundup, to boost trust ahead of a U.S.-hosted Mideast conference, a senior Palestinian negotiator said Monday. (AP Photo/David Furst, Pool)

Hooray! Condi has achieved the matching armchairs! And you know she's accomplished, oh, just
loads
when the Associated Press sees fit to publish
two entire sentences
about the event:
RAMALLAH, West Bank - Secretary of State Condoleezza Rice said Monday that Israel and the Palestinians are "moving toward an understanding" that a U.S.-sponsored conference can be a forum to restart long-stalled peace talks.

Rice, speaking at a news conference with Palestinian President Mahmoud Abbas, also said she was "tremendously impressed by the seriousness" Israeli and Palestinian leaders have shown in moving toward renewed peace talks.
Gosh, that's not vague at all!
UPDATE: Also this morning, Condi expressed her desire to see Pakistan returned to "normal", but more importantly, to see Musharref naked:
Rice said Musharraf should stick to his word and "

take off his uniform,

" the agency reported. "I want to be very clear. We believe that the best path for Pakistan is to quickly return to a constitutional path and then to hold elections," she said in comments carried by AP