Oho, so this is why there was no Condiproduct yesterday: she was undergoing a fairly extensive hairdo treatment. Yes! Let's look at Condi's new hairdo: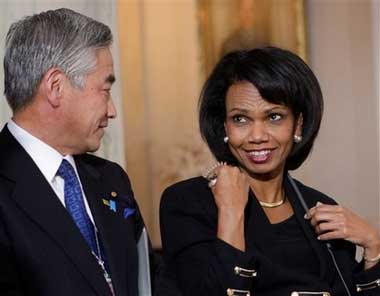 Secretary of State Condoleezza Rice, right, talks with Japanese Deputy Chief Cabinet Secretary Mitsuhide Iwaki, prior to President Bush and Japanese Prime Minister Yasuo Fukuda delivering their joint statement, Friday, Nov. 16, 2007, in the Cross Hall of the White House in Washington. (AP Photo/Ron Edmonds)
It's quite a bit shorter, and almost perfectly spherical! I think it's kicky! And Condi looks extra pleased with herself, and that's exactly what a new hairdo is supposed to do. Oh, good show, Condi, good show! Let's look again:
REUTERS/Kevin Lamarque
Wheee! This could get shaky. Will the Condoleezza Hairdo Alert System need to go to
HIGH?

UPDATE:
I'm thinking, OMG, how prophetic was that fake photo I made yesterday of Condi with curlers in her hair, dramatizing an event which happened the same day she was likely receiving hairdo treatments. It's spooky!