OK, I have to admit that I've been withholding these from you. They're from last Thursday, and I just can't figure out
what
is up with Ursula and her Chancellor pal in these pictures:
A combination photo shows Austrian Foreign Minister Ursula Plassnik (L) and Chancellor Alfred Gusenbauer attend a session of the parliament in Vienna November 8, 2007. REUTERS/Heinz-Peter Bader (AUSTRIA)
For reals! What. Is. Going. On!? And can we see that jacket closer, please?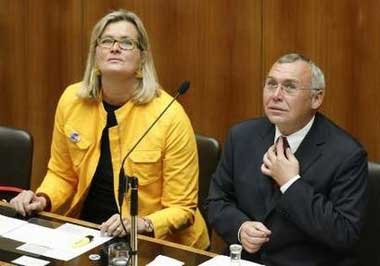 These people look like they're in pain. Ursula, the usually affable giantess, almost seems to be burdened by gravity, perhaps for the first time! Oh, Ursula, honey, please just take a spa week, OK? Because you totally deserve it. God, she didn't even barely accessorise.
Ew, I mean, look at them:
Poor Ursula! Poor Chancellor Guy! What have they been up to? I think they better Lysol™ that table when they're done.