Sen. Larry Craig, R-Idaho, answers a reporters' question as he enters the weekly GOP lunch on Capitol Hill in Washington,Tuesday, Sept. 18, 2007. Craig returned to Washington Tuesday for the first time since public disclosure of his guilty plea in a restroom sex sting. (AP Photo/Lauren Victoria Burke)
It was terribly exciting on Capitol Hill yesterday, because much to the delight of all his Republican colleagues, Larry Craig came back! Hooray! The lavatories at Union Station were positively abuzz! Dana Milbank was
on the scene
with a hilarious report, one which gives the impression of nervous GOP stalwarts fleeing in terror from the toxic Idahoan (and wire photographers doing the opposite).
One thing is certain from Milbank's account, that Arlen Specter really,
really
needs to get himself a slang dictionary [emphasis mine]:
Even Craig's few defenders were having trouble finding words.

"You don't toss off, er, over, a friend of that duration,"

reasoned Sen. Arlen Specter (R-Pa.), who suggested that others feel the same way in private. "

There's been a lot of favorable talk about Larry in the cloakroom

," Specter said.
Um, hello? Arlen? You're not helping! I believe that the phrasing you were groping for was that you didn't want to
blow him off
.
But speaking of being helpful, the Associated Press decided that their clients surely needed context, so they provided photographs (from every angle!) of the scene of Larry's mortifying crime, now Minneapolis' top tourist attraction: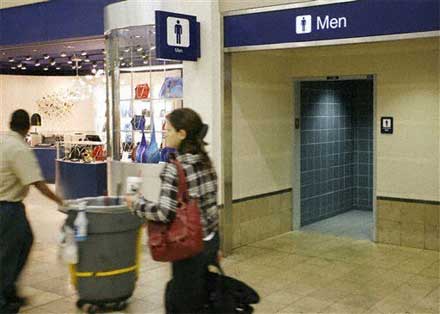 The bathroom at the Minneapolis St. Paul International Airport in Minneapolis where U.S. Sen. Larry Craig, R-Idaho, was arrested in a sex sting is shown Monday Sept. 17, 2007. Karen Evans, information specialist at the Minneapolis-St. Paul International Airport said the airport has since been giving directions to the men's room near a central food court and shopping area. "It's become a tourist attraction," said Evans. (AP Photo/Andy King)
Oh, talk about impossible to resist: